raleigh, nc:
919-280-3488
richmond, va
804-380-2348
Featured Playset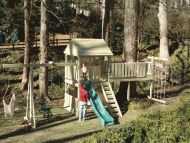 This is a really great design with loads of cool features. Installed on difficult slope and partially around a 38" oak tree, this playset is a 6x6, with a three position swingbeam, steps, 10' wave slide, lower area partially enclosed and with a floor, and of course the 6x10 deck. Really fun making and installing this one.
Contact us about this playset.
Promotions
All Prices Include professional installation on flat or sloped yards.
Since 2005, designing and building backyard playgrounds one family at a time!
Now Serving Raleigh, Greensboro, Richmond, Hampton Roads and Northern Virginia & surrounding areas.
At Backyard Playground, you can work with a certified professional to design a unique playset for your children's adventures. We're expert in creating great designs for sloped areas, small wooded areas and practically anywhere else you may want your playset to go.