raleigh, nc:
919-280-3488
richmond, va
804-380-2348
Featured Playset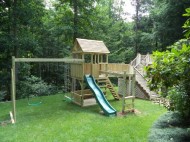 This is a 5x6 Playset designed to work on pretty extensive slope, though it's hard to see. We tied it into their existing deck with a bridge for quick access from their 1st floor. Loads of features including a cargo net, monkey bar, angled steps, perimeter seating, 3 swings, 10' waveslide, arched openings and starbursts.
Contact us about this playset.
Promotions
All Prices Include professional installation on flat or sloped yards.
Since 2005, Designing & Building Backyard Playgrounds One Family at a Time!
Now Serving Raleigh, Greensboro, Charlotte, Richmond, Hampton Roads, Northern Virginia, and Wilmington.
At Backyard Playground, you can work with a professional to design a unique playset for your children's adventures. We're expert in creating great designs for sloped areas, small wooded areas and practically anywhere else you may want your playset to go.