raleigh, nc:
919-280-3488
richmond, va
804-380-2348
Featured Playset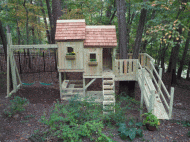 What a great playset this turned out to be. This yard had nothing but slope, but we were able to work with the family and design that worked perfectly.....slope mitigated, loads of features added in, and accessible and safe for the kids. A split level fort with clubhouse walls and cutout windows, cedar shake roof, 2 position swingbeam, picnic table, ticket counter, tree porch built around 2 trees (you can walk between the trees!!), angled steps, and a 10' walkway to the retaining wall surrounding a family entertainment area.
Contact us about this playset.
Promotions
All Prices Include professional installation on flat or sloped yards.
Since 2005, Designing & Building Backyard Playgrounds One Family at a Time!
Now Serving Raleigh, Greensboro, Charlotte, Richmond, Hampton Roads, Northern Virginia, and Wilmington.
At Backyard Playground, you can work with a professional to design a unique playset for your children's adventures. We're expert in creating great designs for sloped areas, small wooded areas and practically anywhere else you may want your playset to go.